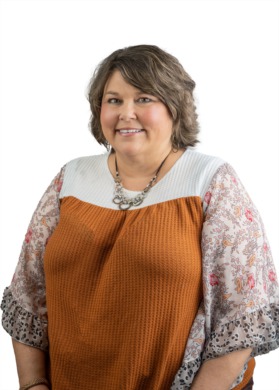 I was born and raised in Louisville, KY. I jumped into Real Estate after 25 years in the Medical Laboratory 
field, where I held many positions ranging from Laboratory Technician to Software Analyst. I tend to 
take a scientific approach to real estate. Much like a lab test or software development, there is a 
process to obtain the desired results. I met my husband in 2006 and we married in 2007. My husband 
retired from the US Army in 2008 after 25 years of service. Hooah! He has been employed with the 
Department of Defense at Fort Knox since retiring. We moved to Elizabethtown in 2011 and enjoy our 
home in the woods with our crazy Australian Shepherd, Hyper Piper. I have a step-daughter, Jena, and a 
grandson, Kyler. When not working, my husband and I love to travel. We've taken a number of cruises 
and traveled all across the country. We enjoy hooking up the camper on the weekends and enjoying 
nature. We are always up for an adventure. I believe in treating all of my clients like family. I take pride 
in my ability to present the facts and guide my clients through a smooth transaction. I'm always just a 
phone call away. Of course, my military clients hold a special place in my heart.
Testimonials
Tracy Olson is amazing. We have known Tracy on a personal nature only and based on that knew we wanted to hire her as our agent when the time came to purchase our farm. Her knowledge of the area(s) we were looking at was phenomenal and her calm demeanor during some of our rough patches in the process of looking all the way to closing made it such a more relaxing adventure. Tracy knows her stuff and her confidence was reassuring. Thank you Tracy for all of your above and beyond help (you are GREAT!!!). Tracy, you made all our DREAMS come TRUE.....we put our TRUST in you and YOU DELIVERED!!!! Definitely will recommend you to one and all. We put our TRUST in Tracy and she went above and beyond to ensure we had everything we needed. Her confidence in her profession was above par. Thank you Tracy. We love our new Homestead, and we absolutely love you.
Phil and Stacy Grainger, Greensburg KY
Tracy was absolutely fantastic!! This was mine and my husband's first home purchase, and we couldn't have asked for a better realtor and friend! She was very knowledgeable in buying/selling. She is great with first time home buyers and really puts you at ease through the whole process. She had answers to every question we had and if she didn't know...she always found the answer. She makes herself available to you at all times, which is very comforting to first time buyers like myself and my family. We thank Tracy and Semonin Realty for helping us achieve our dream of owning our own home!!
Samantha Reynolds, Vine Grove, KY
Tracy displayed what everyone hopes for in a realtor. Caring, trustworthy and patient, she has a gift which enables her to place the right family in the right home at the right time. Thank you for being there for me and my family!
Tavares, Elizabethtown
Buying a home can be stressful, especially in the current market. But with Tracy Olson leading the way, it was a lot of fun and not nearly as stressful as it could have been! Tracy considered our family's needs and helped us find the right house. Throughout the closing process, Tracy was calm, reassuring, and offered reasonable advice and solutions for the concerns that popped up. Put your trust in Tracy. You won't regret it!
Susan, Louisville
Working with Tracy made our real estate transaction easy and pain free. My wife and I found a piece of property that we felt would work well with our future plans of building a house and getting away from the city. We contacted Tracy to represent us, and she went to work. She contacted the selling agent and started work on fair market value of the property. She worked with us the entire time keeping us fully informed on the process. We will contact Tracy for any future real estate transactions.
David Francis
More Testimonials